crafted with care to inspire connections:
founded with the idea of using contemplative, reflective practices to connect to ourselves, each other, and the natural world, odette press is a sustainably-minded collection of handmade marbled goods and creative experiences crafted to support you in your journey of living life with intention. all of our notebooks are blank, marbled, and bound by hand, with no lines on the pages. we believe a notebook is a place to roam; these are notebooks for the free-spirited, for writing, drawing, and expression.
Subscribe to the newsletter: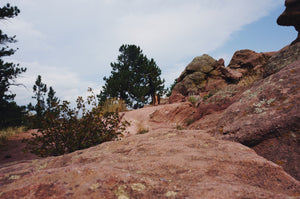 hi, i'm kelly
i'm an artist, writer, and creative guide. i'm fascinated by mind, body, and nature, and the art of living. i founded odette press on a road trip as a love letter to landscape and a way for you to discover your own inspiration, too.
learn more about odette press, my practice, and this creative community.
our story
from the founder's desk
---
Picture this: you sit down to write, opening up a brand new journal, pen in hand. Eager to start writing, you stare blankly at the journaling page -- and nothing comes...
Why start a journaling practice? What's the benefit? That simple act of writing, drawing, or reflecting creatively can support memory, improved sleep, generate ideas to solve problems, build confidence, cultivate compassion...
If you've ever stared at a blank page wondering "what's the best way to journal?" or "how do I start?" you're not alone.  While that answer will vary from person to person, a...